New ways of working have been implemented so that adoption applications can be completed by telephone and e-mail with discussions to guide the potential matches. Adopters are from a pre-approved pool of applicants. Potential families are even sometimes able to get a first glimpse virtually of an animal they are being matched with before an in-person meeting,
"But the real story is the way the staff and community have pulled together to be something bigger than the coronavirus that's been keeping us apart," said Kate Haslbauer, Feline Volunteer Team Leader. "Safety precautions and thinking outside of the box has kept the whole network of rescue operating, even if remotely, to get these cats into homes. These efforts have been remarkably successful!" Kate feels that because people couldn't come and browse themselves, they've relied on the knowledge of Feline Enrichment Manager, Dorit Shevach-Shani, and that of the associates working with these cats every day, to find the right pets for their homes.
The matches between people and pets, in the midst of the COVID-19 pandemic, have inspired everyone here to continue advocating for the homeless pets in our care during this difficult time. Take, for example, four-year-old Pom Pom, who'd been at Animal League America since he was a kitten. He's a super smart, energetic cat who was recently adopted. He has irritable bowel disease and is a Sponsor Pet. With the dedicated support of our Sponsor Pet Program we're able to care for many special needs pets.
"Pom Pom is definitely a cat that I will never forget. He was a challenging cat from the beginning —it was because of him that I learned about clicker training and its amazing benefits," stated Dorit Shevach-Shani, Animal League America's feline behavior expert. "We trained each other. Pom Pom is super intelligent so he challenged me and made me better at my job. I will definitely always have a space in my heart for Pom and his squeaks, but I am happy he is home at last. That's what it's all about!"
Pom Pom's new adopter, Casey Schur, has changed his name to Samson. Casey and her husband, Don, had wanted to adopt a cat, but waited till they had a new place that could better accommodate a pet. Due to COVID-19, they had been working from home and thought this was the ideal time to adopt a cat like Samson, who had additional needs and might require more of their time to grow accustomed to his new life.
Casey was first drawn to Samson when she was told about how he'd been in the shelter for a long time and how all the volunteers loved him so much. "It was clear that there was something really special about him, and he needed a fresh start," she said.
They discovered that Samson really enjoys interactive play sessions with wand toys, especially the ones that have the tiny, fuzzy mice, and that's a great way to get out his extra energy. He can leap amazingly high. "Now he's turned into my little shadow. He really loves cuddling and forehead scratches, and will butt his head against mine if I'm not paying enough attention to him, which is pretty much constantly!" Samson's new parents are hoping that their story will encourage other families to welcome an overlooked adult cat or dog into their lives.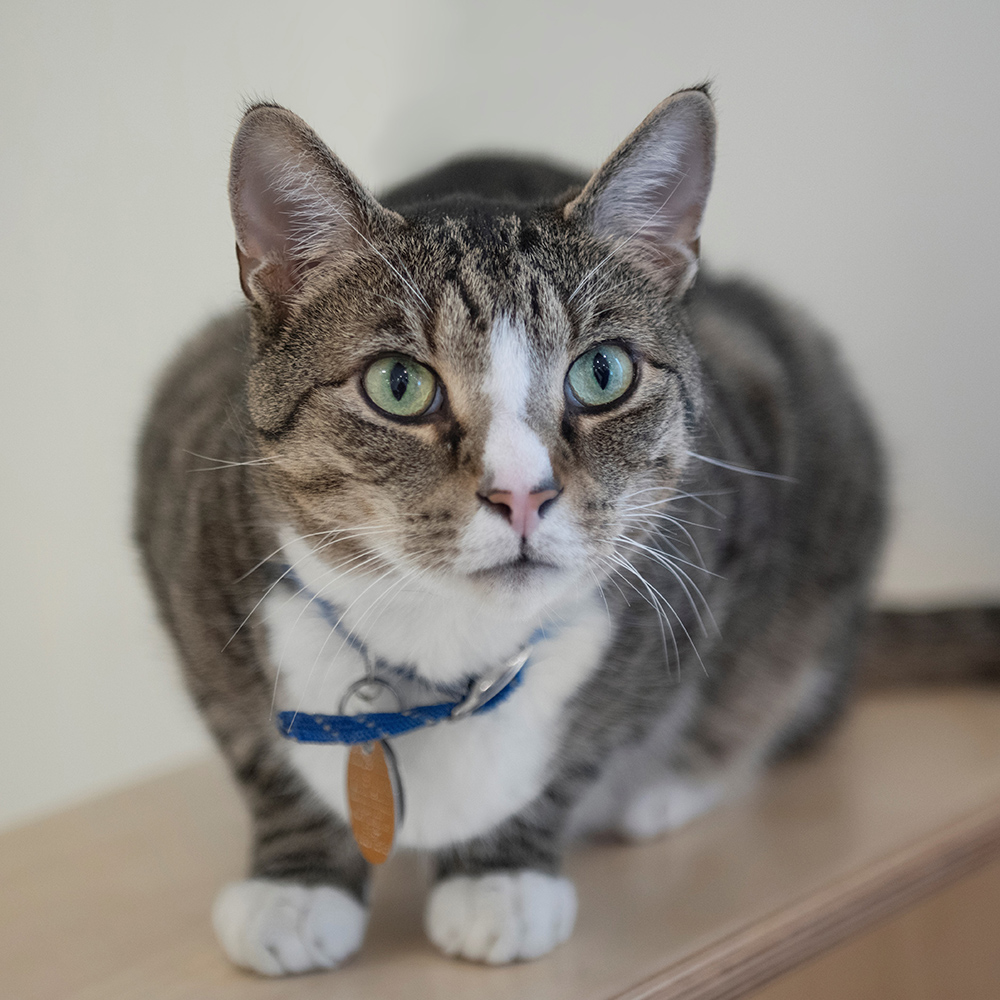 Bobbi, a senior adult cat at the adoption center for a year and a half, also recently found a loving home with Rachel Swenson and her family. Bobbi is also a Sponsor Pet because he has feline lower urinary tract disease that requires monitoring and needs a special diet. Rachel renamed him Indy, after Indiana Jones, because she realized as soon as she brought him into the house that "he was looking for an adventure. Every morning I get stories from my family about how he visits them while they're sleeping."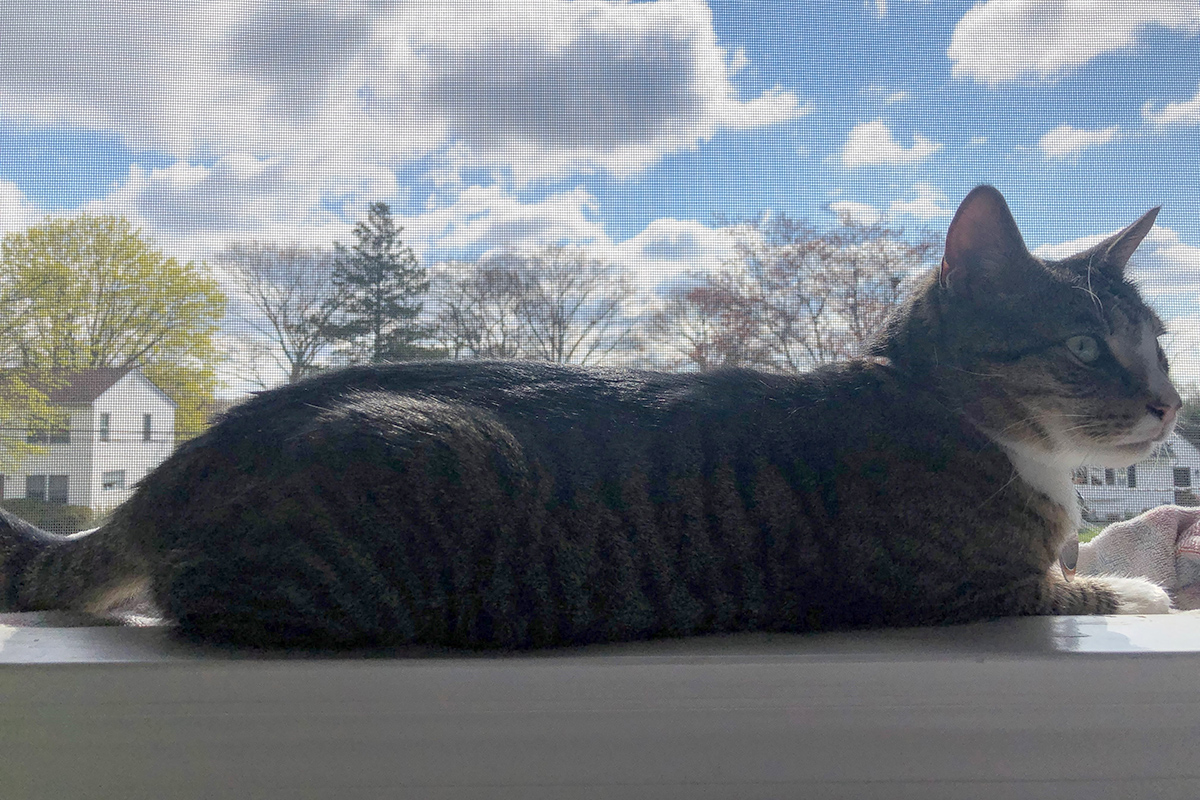 Indy's home base is Rachel's bedroom upstairs and he sleeps there on a pillow he brought with him from the Adoption Center.  He appears to be settling in, but Rachel says that he's still afraid of the dog, so "when the dog goes out or goes to sleep, Indy runs all around the house!" He is cuddly, his purring sounds like a motor, and he just loves belly rubs. Indy also talks to Rachel a lot and meows for his breakfast.
"Indy is a brave cat. The connection I have with him is very different than any other animal. I feel a sense of gratitude from him," declared Rachel. "He has brought many smiles and laughs to my life and he will continue to."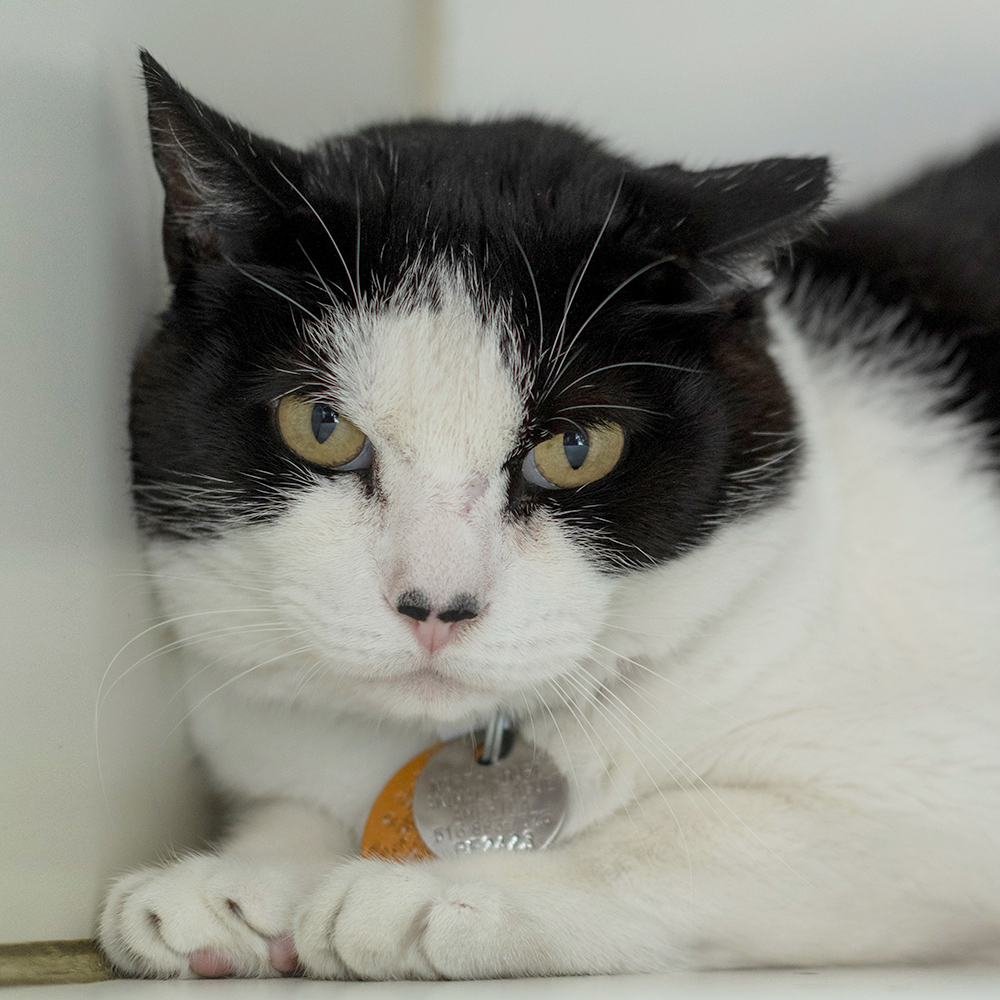 Yafa, another senior cat at eight years old, had been overlooked by adopters time after time in the adoption center for two years. She's a quiet cat with a shy, cautious personality. Taylor Albee was drawn to her because of her sweet nature. She was looking for a friend for her cat, Vector, who had lost his buddy, Webster, and she felt that "he was getting very lonely and wanted a friend he could play with besides me. I was looking for a cat that would fit in with him and myself and be a great addition to our family. Yafa fit!"
The cats have been getting to know each other. Yafa still is shy and, at first, would move away when Vector would go up to her. She'll let him groom her a bit, but then she'll "get shy and run off with an excited tail shake." Now Yafa follows him around and they sit near each other. Yafa even joined Vector and Taylor on her bed one night.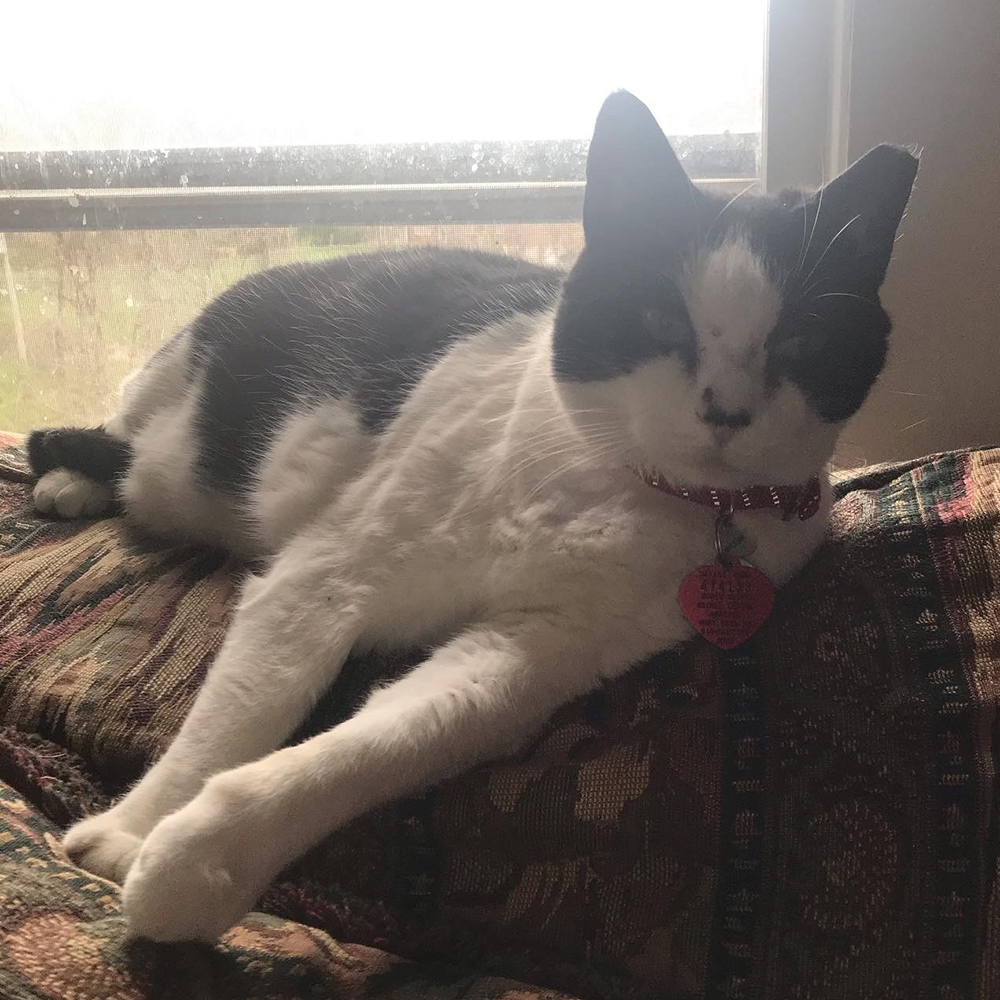 Taylor says that Yafa loves to be pet and she's also a chatter box — just like Vector. She enjoys playing with cat nip mice and she even hid one in her bed. "Vector absolutely loves Yafa. They are getting along so well," said Taylor. "Both of the cats love each other a lot now and I love them both!"
Due to heroic efforts, incredible feline adoptions are happening now. Essential workers in the Adoption Center are caring for these animals and matching them with people with open, loving hearts, willing to give these cats a chance for homes of their own.